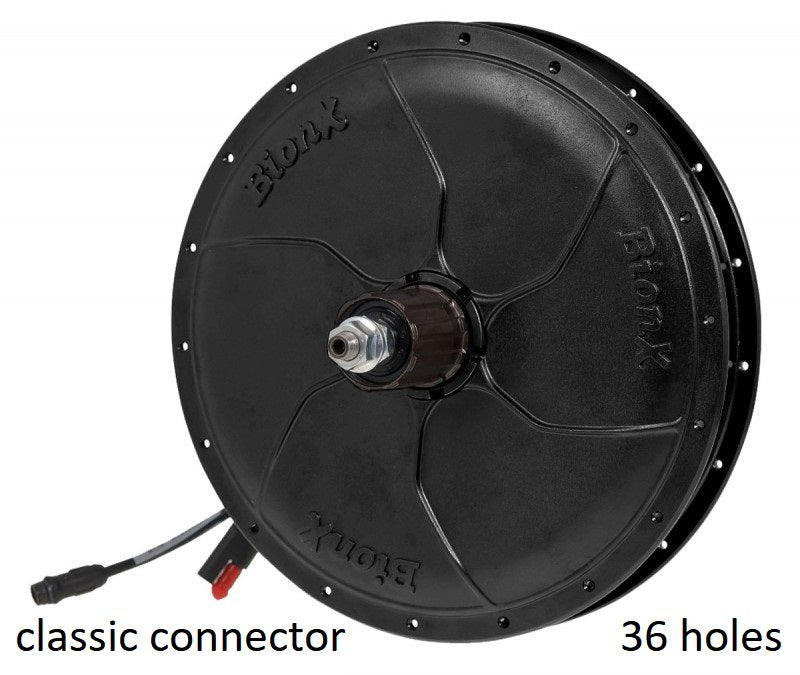 BionX P-Series motor - 350W, 300RPM, Cassette, 36 Spokes, Classic connector, 01-5119
P-Series High Torque motor, 01-5119;
High torque;  Best for cities, most climbs
Nominal torque; 10Nm, Maximum torque; 40Nm
350Watts nominal, 1500W peak power.
300 RPM Stator; For 24" up to 29" Rims
Weight – 4.7kg
36 spokes holes.
For cassette installation; 7, 8, 9, 10, and select 11 speed compatible.
6 bolt disc brake compatible
Standard axle length; 135mm O.L.D. (Over-Locknut Dimension)
Use the classic power connector.
27deg TRC torque blocker included, (part 01-3656)
Black
Production date; January 2018.
 Important information to know when buying/installing BionX motors.
* Motor only, No spokes, no rim, no washers, no cassette.
* 27degres TRC (torque reaction collar) + 2 nuts included.
* To be used with the Classic Power Connector.

When ordering a motor, please specify if it's going to be used with a G2 or RC3 controller and also the planned wheel diameter. We will pre-program the according firmware and set parameters. By default, we ship motors for G2 controller usage and with a 700c wheel diameter.