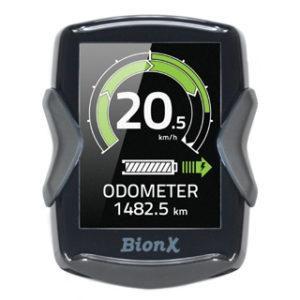 BionX DS3 Color Display (Only the display, No Docking included), 01-5564
DS3 color Display (3rd Generation color Display).
Features include:
Transflective color display
Quarter-turn mounting mechanism
Protective rubber bumpers
Multi-language menu
Download DS3 instructions here.
Must be used with RC3 and motor programmed with 'drive' firmware.
Battery firmware must be 115. So you need BBI software to go from a G2 controller to a RC3/DS3.
Does not comes with Docking station and the arms!