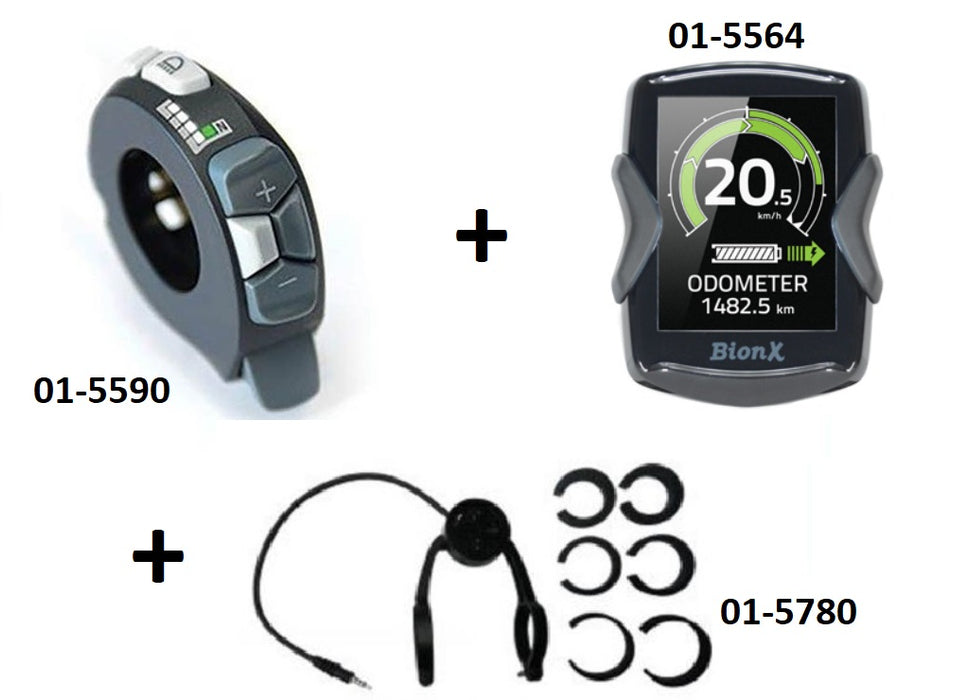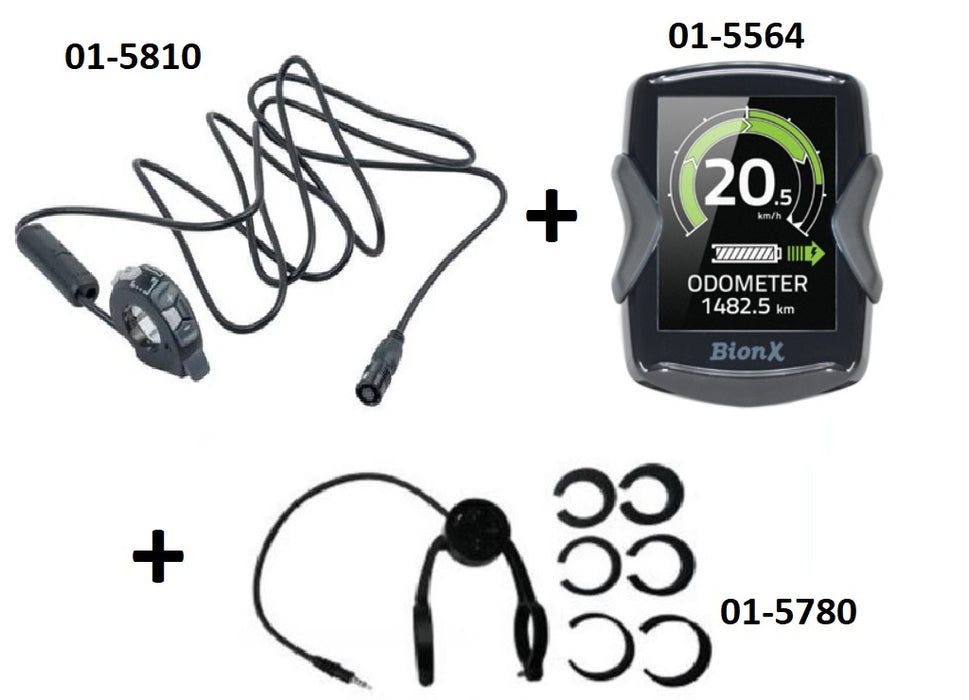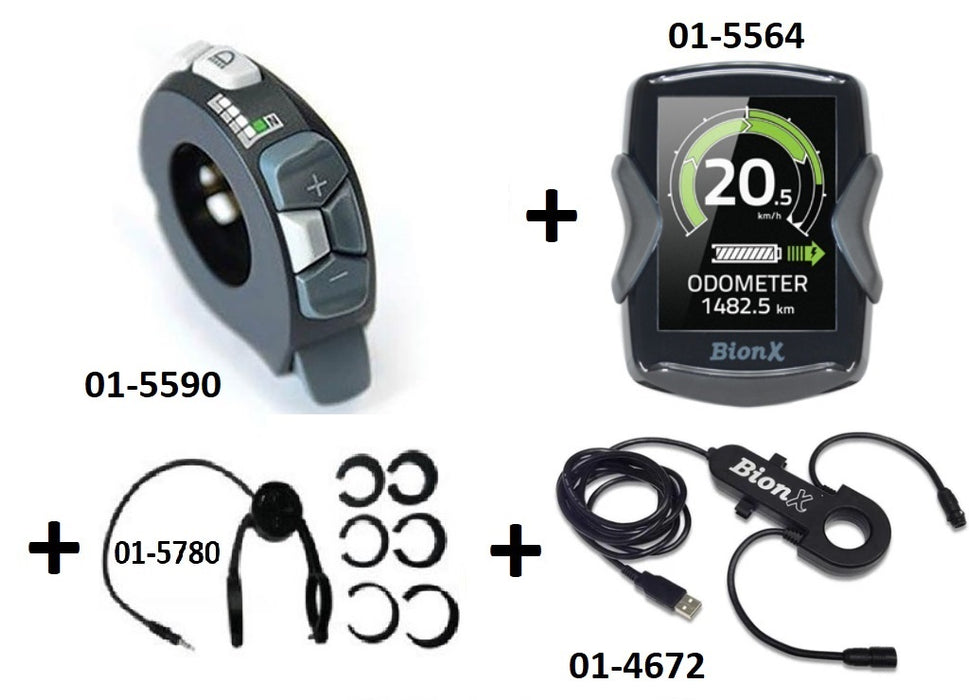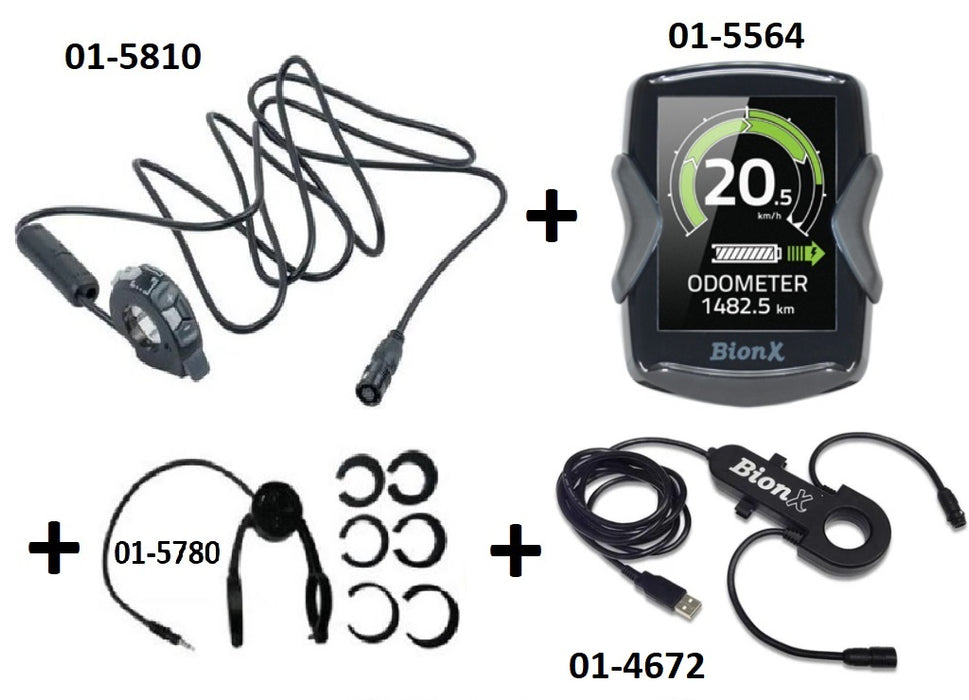 BionX - 3rd Gen controls upgrade kit: RC3, DS3, DOCKING. 01-6008 to 01-6011
** RC3 and DS3 are only compatible with 48 volts batteries. (not 36v or less) 
This is an upgrade kit to replace older G1 or G2 controllers.
The 01-6008 and 01-6009 kit include;
- RC3 Controller.
      - 01-6008 includes the 01-5590 RC3 for downtube batteries
       -01-6009 includes the 01-5810 RC3 for rear rack batteries.
- RC3 Brake switch 01-5940 (no foam and magnet included)
- DS3 Color Display 01-5564.
- DS3 Docking station assembly 01-5780 

REQUIREMENTS; BBI SOFTWARE AND BIB USB ADAPTER.
** RC3 and DS3 are only compatible with 48 volts batteries. (not 36v or less) 

UPGRADE FROM AN OLD G1 / G2 TO RC3/DS3 REQUIRES REPROGRAMMATION OF BOTH THE BATTERY AND THE MOTOR. SO IF YOU ARE NOT SURE OR DON'T KNOW HOW TO PROCEED, DON'T BUY THIS KIT.
- 01-6010 is the 01-6008 kit plus a BIB USB Adapter.
- 01-6011 is the 01-6009 kit plus a BIB USB Adapter.
NO SUPPORT IS OFFERED WITH THIS KIT, SO IF YOU ARE PLANNING TO DO THE FIRMWARE UPGRADE, BEFORE MAKING ANY PURSHASE, IT IS STRONGLY RECOMMENDED TO INSTALL THE BBI SOFTWARE AND THE USB DRIVERS UP TO THE POINT WHERE BBI ASK YOU TO PLUG THE BIB TO THE COMPUTER. WHEN THE BIB AND BIKE COMPONENTS WILL BE DETECTED, BBI WILL UPGRADE ALL COMPONENTS ON A SINGLE MOUSE CLICK.
* This kit (the RC3 and DS3) is not compatible with Smart bikes, or Trek front motor bikes. (any motor with external pedal torque sensor)
** RC3 and DS3 are only compatible with 48 volts batteries. (not 36v or less) 
Technical note; Why RC3 & DS3 requires a specific motor & battery firmware version?
When BionX introduced third generation controller (RC3 & DS3), the CAN bus protocol has been rewritten to accommodate new architecture (having 2 distinctive devices that behaves as a controller + Bluetooth module, etc). This new protocol was named BCP3 (BionX CAN Protocol 3rd generation). The motor firmware was rewritten and renamed to a 'drive'.
BCP3 protocol is not compatible with the original motor firmware or the G1/G2 controllers, that are using BCP1. So there are two categories of BionX CAN bus components, that are running different sets of firmwares.
Regarding the battery, firmware revision 112 and less is BCP1 only, compatible with G1/G2 controllers only, but battery firmware 115 is hybrid and can be used with any of G1/G2/RC3, DS3 controllers and any motor firmware.
So before switching your G2 controller to a RC3/DS3, plan for the need to reprogram your motor with the 'drive', and battery to 115 firmware using BBI tool.